FORM EDITING OPTIONS
To access the form editing options, click the +Add button in the Tools menu, then select Edit Options from the drop-down menu.
Edit Options Pop-Up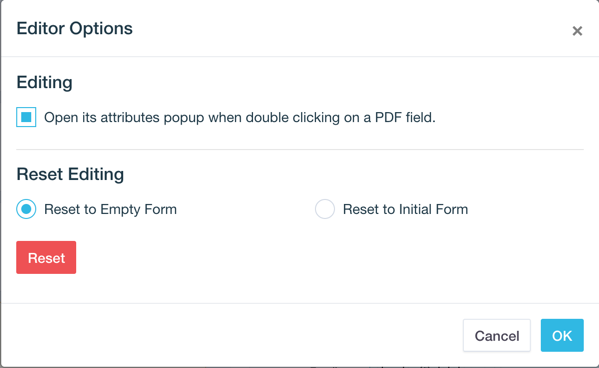 Editing
This feature allows you to open the PDF editing tools by double-clicking on a field. To turn on, select the checkbox, and click Ok.
Reset Editing
Reset Form erases all the fields on your form. If some fields are parsed from the PDF, use Reset to Initial Form to restore these fields.
In this section, there are two options:
Reset to Empty Form Erases all form fields you have added.
Reset to Initial Form Restores any fields parsed from the PDF.
Select the option you want and click Reset. You will then be asked to confirm this action. Click Confirm to continue.