FORM PREVIEW
You can preview your web form at any time by clicking Preview Form in the Tools menu.
The form previews are fully functioning; you can fill them out and submit them in the same way as a published form.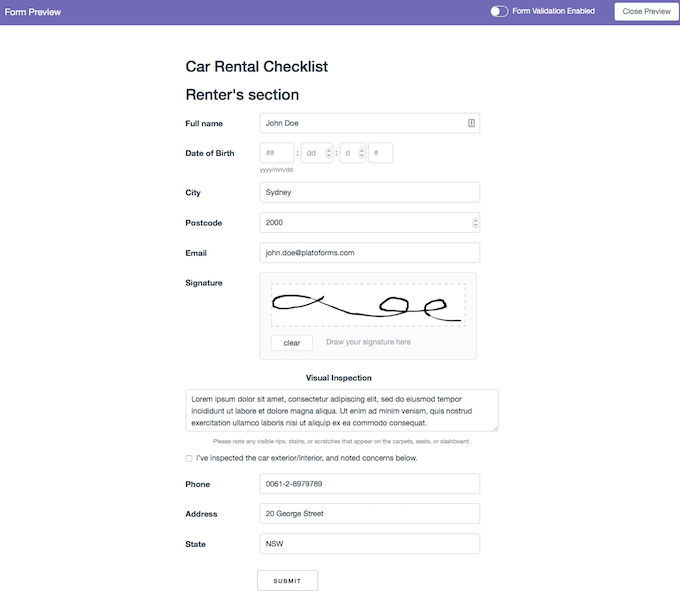 Disabling Form Validation
Typically, when you submit a form, it will run some validation checks—for example, maximum characters, numeric value. On a live form this is a valuable process, but on a preview, it can cause complications.
Turn Form Validation on and off with the toggle switch in your preview Toolbar. This allows you to submit a form, even if the content is not valid.

Filling Sample Data
To make previewing smoother, we recommend entering preview data for the fields you create. To do this, input your example data in the Form Preview section of your fields attributes panel.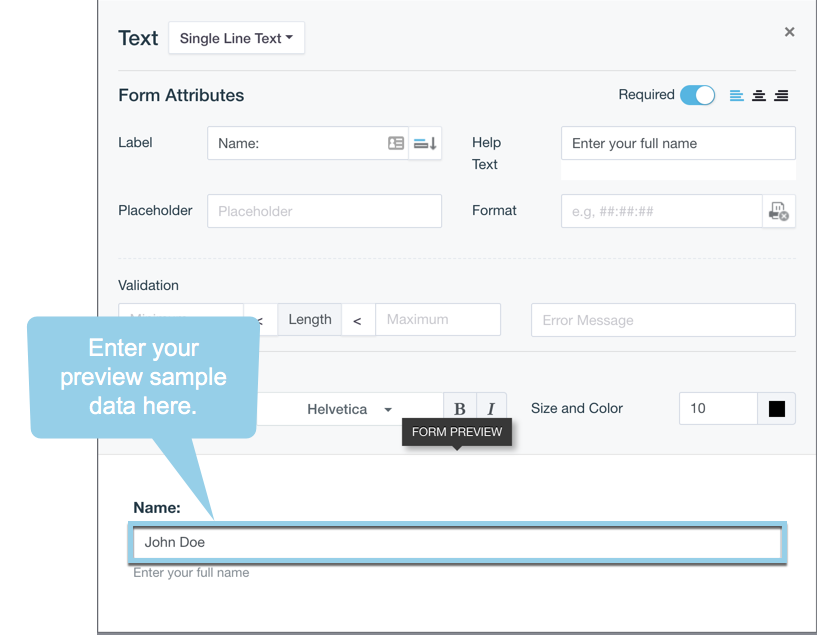 When you preview your form, click Fill Sample Data in the top right Toolbar, and the fields will automatically populate with your example data.
To preview the form rendered in PDF, just click Preview PDF in the Form Builder.
Please note: Some File Upload and Captcha field types do not accept sample data. You must enter these manually.
Previewing the PDF after form submission
After submitting a form, you can view the generated PDF from the success page. Click Preview PDF in the top right Toolbar.

Sample data and Default options
The Choice and Dropdown field types can have a default selected value added to them. This means that after loading, the default value is already pre-selected.
Sample selection and default selection are different things that can run independently of each other.
Sample selection The option selected by clicking Fill Sample Data while previewing a form.

Default selection The option automatically selected in a form by default.