DATA RETENTION POLICY
The data retention policy determines how long your form submission data will be kept in PlatoForms.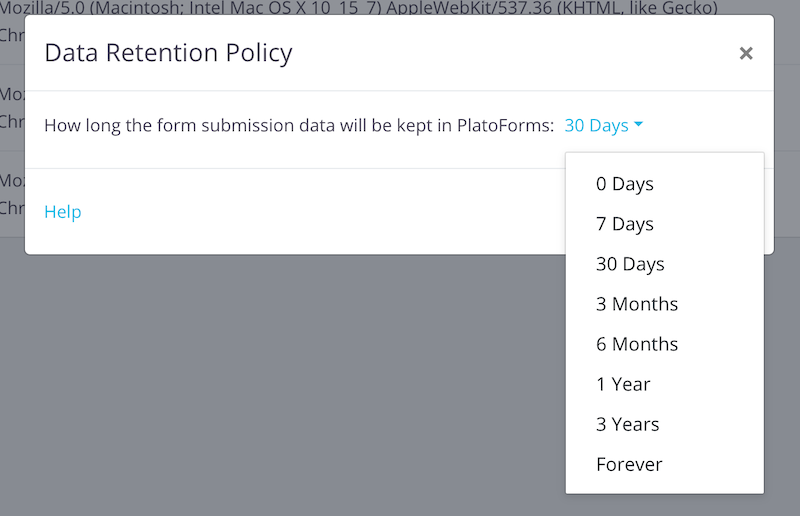 This setting applies to all forms in your team, so only the team administrator can change it.
For newly registered accounts, the default retention time is 3 months.
For trial or free plan, it is 3 months and cannot be changed.
For paid plans, you can change it to 0 days, 7 days, 30 days, 3 months, 6 months, 1 year, 3 years or Forever.
For 0 days retention, you must setup cloud drive integration for your forms. Submission data will be removed from PlatoForms only if the submission is successfully uploaded to its cloud drive. Otherwise, the data retention period is "Forever".
Once a submission's last modification date exceeds the retention time, the submission data, its generated PDF file and uploaded files are permanently deleted. This deletion cannot be undone.
If you unsubscribe from a paid plan to a free plan, your data retention policy will remain the same. You can only change it to 3 months (the default retention period for the free plan). Please note that once you change to 3 months, you cannot change back to the original data retention period. For example, you subscribe to a paid plan and use "Forever" as your data retention plan. If you downgrade to a free plan, your data retention time is still Forever. However, if you change it to "3 months", you can't change it back to "Forever" unless you subscribe to a paid plan again.
Your changes will not take effect immediately. It takes up to 24 hours to purge expired submission data.
For HIPAA-compliant accounts, data retention will be "Forever" and while this can be changed, you must have a relative in-house backup policy to be HIPAA compliant. For accounts that use electronic signatures, please consider changing this policy to "Forever" retention.
This feature starts on February 8, 2021. Data retention will be "Forever" for any sign-up account prior to this date.