SHARING YOUR WORKFLOW
Once you have designed the workflows, you need to publish it and then share it or embed it to your website.
To share your workflow, click the share icon in the action panel to the side of your workflow name.
To publish, click Publish the Workflow in the pop-up window.
Once the workflow is published, the steps become read-only. This means you cannot change, delete or add another step. If you need to make changes, Clone the workflow and start again.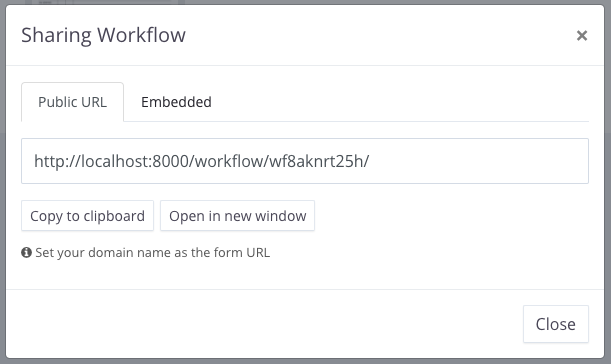 There are three statuses for a workflow:
Draft This is the initial status of a workflow. You can make any changes you require.

Published A published workflow can be shared and accept submissions. Once a workflow is published, you cannot make any further changes.

Broken A workflow becomes broken when one or more forms in the form archive are archived, deleted, or sharing is stopped. To fix a broken form, make sure all forms are in published status.
This URL is essential to link each step of a workflow. The address is provided in all notification emails and on the Submissions page.
Please Note: If you want to embed your workflow in a web page, set up a Page URL in the forms sharing dialogue (embedded sharing tab). To use the step-by-step process of a workflow, it is essential you set up the correct URL. It is used in all notification emails and also the submissions page.